Spring Roof Cleaning
Springtime is Roof Cleaning time!
Roof Cleaning is a solution for those black streaks
So you have the black streaks on your roof. It is Springtime and now there is this unsightly mold on your house. No problem, we can help with that. Spring is an excellent time (for Spring Roof Cleaning) so you can start with the top of your house and work your way down to your landscaping. There is not necessarily something wrong with the shingles, but there is a growth thriving on your roof. There are different things living on your roof. The major thing is a mold or algae called Gloecapsa magma it is what you see as black streaks. The other things are lichen, moss, etc. and can be remedied as well. These molds often lead to damaged paint, wood, concrete, etc. If your roof has algae resistant shingles you may have a 10 year warranty from the shingle manufacturer which will cover the cost of roof cleaning. It is not unusual for the mold to form on the algae resistant roof as early as 7 years. It can be noticed on non algae resistant shingles as early as 4 years. With the shingle warranty you could get a free roof cleaning paid for by shingle manufacturer. See photo below, this lady had algae resistant shingle and got a free roof cleaning paid for by shingle manufacturer. Ugly roof streaks are not very appealing and can sneak up on you if you're not watching. You want to be the first to notice so you can call a roof cleaner to remove it ASAP. Some neighborhood HOA's will send out letters requiring re-roof or cleaning. Some are not aware of cleaning options so imagine the surprise when your neighbors demand you replace your roof.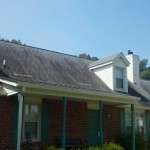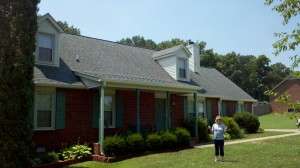 Roof Cleaning can be done safely and efficiently. In most cases a roof can be washed in 3 hours or less. It involves spraying a non-poisonous, rapidly bio-degradable chemical on to the roof with low pressure like from a shower head in your bathroom. See the photos at the top of this page for actual roof cleaning service in action.