Gutter Cleaning Service
Outdoor ProWash LLC delivers peace of mind when it comes to gutter cleaning. Our gutter cleaning package includes flushing them with water to ensure the gutter are flowing properly.
Click here for an instant gutter cleaning quote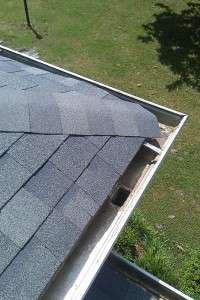 Gutter Cleaning with Gutter Guards
Cleaning your gutters with gutter guards is needed on occasion so the water will have room to flow and also run faster. The gutters will accumulate sediment and roof granules. This is true with all gutter guards. We can spray in the slots or through the screens and the water will push the sediment down the spout. Every now and then we will need to remove saplings that grow in the sediment.
Safety
Leave it to us to get the gutters cleaned for you. As I get older I meet more people and hear more and more horror stories of people falling from a roof or their ladder. What if you or your loved one fell and got hurt. How much would you pay to turn back the clock like it never happened? Well that is impossible so don't answer that. I will say this, "An ounce of prevention is worth a pound of cure." We have all made mistakes and I want to help you or your loved one to not do the same. Did you ever hear the story about the owner of a roofing company falling off his own roof to his death? Read here about this Roofing Billionaire.
Cost of having your gutters cleaned
Assuming I can convince you not to clean your own gutters. A guy came through my neighborhood cleaning gutters for $35. I had one man offer to clean up my leaves for $10. I politely turned them away and I even gave $10 to the leaf guy. I could go on with many reasons not to hire these guys, but to start I know a guy could not even maintain the tools needed to perform such a job for that price. Now these are extreme cases, true, but extreme. We find that when you get into the $75-$150 range you get a better contractor. Even in these cases they may not have the proper insurance and equipment. Also, guys in this price range are not around very long so chances are you won't get the same guy when you need him. Personally I like relationships with people I know I can trust and will be reliable when I need them. I don't want to shop every time I need a service. What if you had to shop for Auto Insurance every year. That would suck and so does shopping for gutter cleaners. We charge between $150 and $300 for most normal size houses. If you can budget for this we will be there for you every time you need us, it's that simple.
Another form of gutter cleaning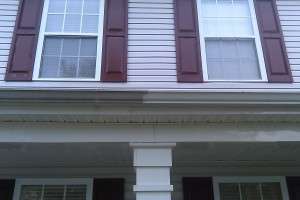 We clean the outside too. There is no amount of pressure or bleach that will remove the stains. Let us clean your gutter surface to look new again.