(Pressure Washing) Tracking dirt and grease into your commercial business…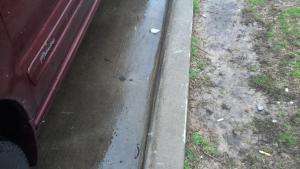 The dirt from this parking lot is being tracked onto the sidewalk and into the store. A simple pressure washing on a frequent basis would stop the problem in it's tracks (Pun intended). There is dirt. grease and oil present here and all of these will have adverse affects on the life of the floor and floor finish inside. The greases and oils will break down the floor finish on a chemical level and the abrasive dirt will will wear away on a mechanical level. Pressure washing the parking areas and sidewalks with hot water is a great answer to the problem.
On this sidewalk you can see the neglect in the form of years of dirt, oil and gum build-up. A restoration cleaning could turn this concrete back to it's original concrete gray color. Frequent cleaning with a pressure washer and hot water will maintain it and prevent dirt and grease from entering the store. This is easy to understand when you think about it. Pressure washing would be quick and easy when done by an experienced pro.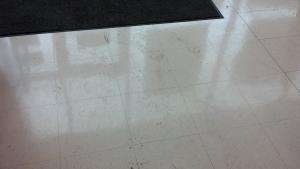 Obviously this merchant takes pride in the interior of there establishment, but unfortunately customers will see the outside first. If you are afraid of environmental issues regarding cleaning your sidewalks and parking lot ask your local Professional Power Washer or the UAMCC for advise and more information so you can be informed and not in fear.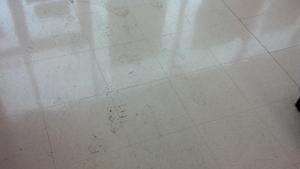 Here you can see where the dirt and grease is being tracked into this retail store. These floor coating are no match for the grease, dirt and traffic that is bound to come through these doors, but two parts of this equation can be eliminated. The result could be an attractive exterior and potentially lower interior maintenance costs. A better customer image wouldn't hurt either. All of these benefits for something that should be done anyway are a great bonus. It helps the community as a whole. If you are in a depressed area you can make your property stand out in a positive view. This could give you a competitive advantage where your competition may not think exterior cleaning is important. Please consider Roof Restore Outdoor ProWash for your exterior cleaning, Parking areas cleaning, sidewalk cleaning and damage free 100% gum removal.