Outdoor ProWash LLC
Pressure Washing Nashville
Pressure Washing for your home or business in the Nashville and local areas surrounding Nashville.
Welcome to Outdoor ProWash! Offering pressure washing service and sealing since 2004.
We are Pressure Washing Nashville! A great Pressure Washing and Soft Washing and Roof Cleaning Service means having a fresh and clean property exterior. Pressure washing and exterior cleaning are important because your property will look better and you want to be safe from slips and falls or any possible health issues from accumulation of bacteria and mold. Gutter Cleaning Service is important to keep the water away from your house or building. Commercial Pressure Washing Service for business owners and managers to keep up with the demands of the end user for cleanliness where they eat, shop, work and play.
Residential Soft Pressure Washing Services
Expert Power Washing
Roof Cleaning
Pressure Washing
Soft Washing
House Washing
Gutter Cleaning
Concrete Sealing
Deck and Fence Staining Services
Home Exterior Pressure Washing Services can also include:
Carports
Retaining walls
Driveways
Sidewalks, porches, patios and railings
White PVC (plastic) / wood fences, pergolas, decks, gazebos, children's play sets and other outside structures or items.
House washing
Exterior house washing and vinyl siding cleaning are some of our specialties. When we wash a house we are thorough because we have observed what home owners expect for many years. The siding, whether it be brick, vinyl, stucco or hardy type, needs to be cleaned correctly. The commonly overlooked details like the foundation, gutter front, fascia, soffit and all the hard to reach areas are included when we quote you a price for our soft wash house washing package.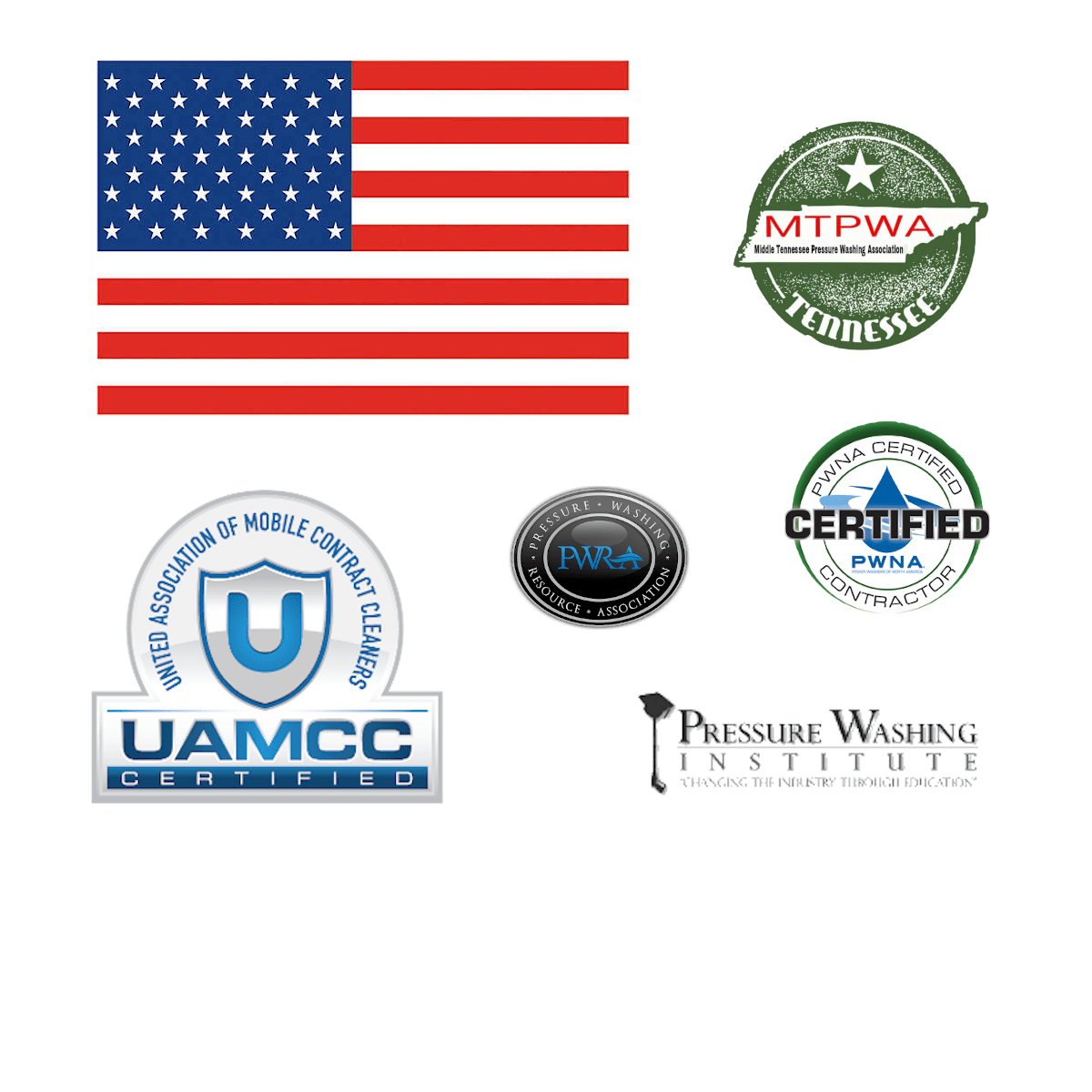 Roof Cleaning Service
Our soft wash roof cleaning service is very gentle on your roof. It is a safe cleaning process so you don't have to worry about property damage. Asphalt shingles should not be washed or rinsed with high pressure because it will cause damage. This is why soft washing is the best method most roofing materials.
Gutter Cleaning Service
We offer gutter cleaning because of the many problems it solves before they happen. Prevent foundation and other problems with routine gutter cleanings. Gutters are a code requirement in many area in Tennessee. They are on almost every home, but gutters are a pain point to home owners that sometimes results in neglect and property damage.
Cleaning and Staining Decks and Fences
We offer wood deck and fence cleaning, sealing and staining services. We love restoring the beauty of wood. You'll love how fresh and clean we get your deck or fence. Staining will protect your investment for years to come and it will enhance the beauty of the wood as well.
Recurring Services for Home Owners
It's good to have a plan for keeping up with power washing around your home. After you see what we do, we hope you'll want Outdoor ProWash on a regular schedule. With pre-scheduled appointments you'll get friendly email and text reminders ahead of time to prepare for your next appointment.
Commercial Services
Commercial Pressure Washing Services are usually done when the business is closed to avoid any issues with patrons. Outdoor ProWash offers recurring cleaning services for commercial property owners and managers. Our core focus is on retail centers, bars and restaurants. These public places are in the forefront of our nations economy. To encourage repeat visits by consumers it is recommended to clean the building exterior, sidewalks, patios and dumpster pads at least twice per year. We'd be happy set up a sequence of cleanings to you can know the job is getting done by experts in this area.

Serving the entire area near Nashville TN to include: Old Hickory, Hendersonville, Mt. Juliet, Antioch, Cane Ridge, Brentwood, Franklin, Leipers Fork, Nolensville, La Vergne, Smyrna, Murfreesboro, Belle Meade, Green Hills, Forest Hills, Oak Hill, Hermitage, Laguardo, Tullahoma, Manchester, Goodlettesville, Lebanon and nearby areas.