You care about your home!
We know you care about your home and your neighborhood. This is why it is a good idea to maintain a clean home exterior. You care about your neighbors and friends who will come over to visit. This is obvious since you are here! Use this easy form to get started: Contact Form
House, Gutter, Soffit and Siding Cleaning
Softwash is a way of cleaning which uses proper soaps and detergents. This improves cleaning results. It also prevents the damaging effects of high pressure blasting. We always use the right equipment for applying the soap to the surface. We believe in always being prepared for the job. This equipment also thoroughly rinses away all soap and dirt. We recommend application of a 12 month surface protectant/mildew inhibitor. This improves the appearance of most surfaces and extends the life of the cleaning job.
Vinyl Siding Cleaning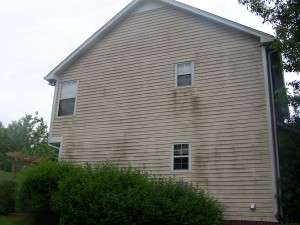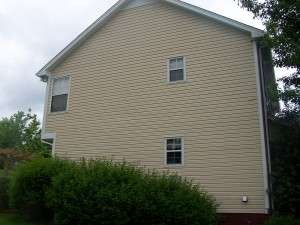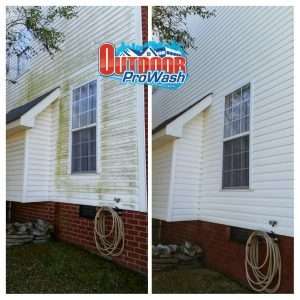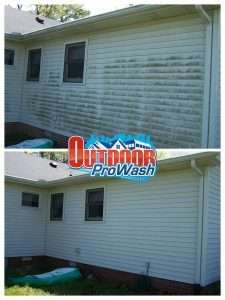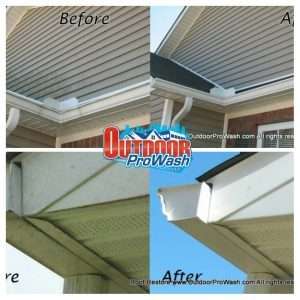 Add on Concrete Cleaning while we are at it for big savings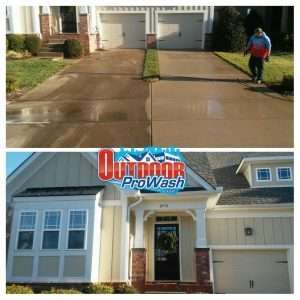 We also offer Dryvit Siding Cleaning and Stucco. All types of siding.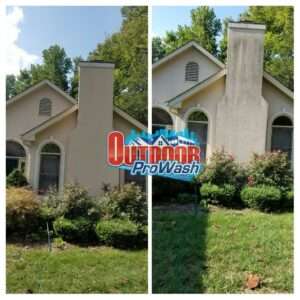 What are the problem areas?
Mildew, Cyanobacteria, Gloeocapsa Magma will grow on wood, concrete, siding, aluminum and other surfaces.
Many times home owners do not realize what is growing on their home and the damage it can cause. Organisms like these will begin to break down construction materials, creating a more inhabitable environment for higher organisms which will move in and cause more harm.
If left unchecked, a small ecosystem is created and the waste stream from this ecosystem creates acids that will also break down construction materials further more deeply impenetrating that surface.
Watch this very Quick Video of House, Gutter, Soffit and Siding Cleaning

Automatic Recurring House Washing Maintenance Agreement
Ask about automatic recurring maintenance agreements to save you the time and hassle hiring a new house washer each year.
 
Ask about our house paint prep cleaning service to make your painting job go a lot smoother.
See also Driveway, patio and sidewalk cleaning services
Jun 14, 2018
Soft Wash House Washing Package
Power washing services were great. House looks clean and sparkly. Scheduling and quote was easy process. His quote was expensive, but he was able to come quickly, as we were willing to pay the premium for it.We did not enjoy our interaction with the company, however, and are unable to recommend.We asked for power washing and gutter cleaning services. The company cleaned the outside of the gutters and did not clean OUT gutters. We did not receive the services we asked for, but more than that, the owner was abrasive and rude when we pointed out the ambiguity of the company's site. There was a way he could have rectified the situation, offering a discount would have been, at the very least, a simple gesture.He instead blamed us, saying we should have asked to clean gutters OUT, instead of CLEAN GUTTERS.His website and quote make no distinction of the difference. I don't know why it's on the back of the customer to do so.
Thanks for the useful feedback. I told you I would make the change on the wording and I just wanted to let you know that I did. I changed it from, "Soft Wash House Washing Package: Soft wash house washing package to include cleaning gutters, trim work....." to "Soft wash house washing package to include cleaning gutters (ask about having us clean out your gutters too while we are there), trim work...", so hopefully no more ambiguity. This change will be on all future proposals. We did clean the debris off your gutter screens at no charge as discussed and agreed upon before your husband verified prior to payment. I also gave you a complimentary sidewalk cleaning as a courtesy that really wasn't worth mentioning at the time. Have a great day! George
Jun 10, 2018
Clean and seal a long driveway
The driveway looked great after the pressure washing but the ultimate test came this morning with the heavy rain. We were amazed at how well the sealant that was used turned the water on the entire driveway. Thank you for a wonderful job and for the results we were looking for!Ann and Bill
Jun 7, 2018
Deck and Fence Clean and Stain
Hi George,The deck and fence look great! How long should we wait before putting things back out on the deck/it can get wet from watering etc? 48hours?

Best,
It's fine to get it wet by now I would say it should be ready, but you can wait until tomorrow just to be safe. The time does vary depending on temp and humidity.
May 18, 2018
Recurring bar/restaurant patio cleaining
Great Job! Patio looks great!
May 17, 2018
Soft Wash House Washing Package
You guys did a wonderful job!!! I am very satisfied and look forward to using you guys in the future... 
Summary
Service Type
Soft Wash House Washing Service
Provider Name
Outdoor ProWash LLC
,
2508 Sleepy Hollow Dr
,
Nashville, TN
,
US
-
37217
,
Telephone No.615 365 1000
Area
Description
Our soft wash house washing package will leave your home exterior surprisingly cleaner than you will expect.