House Washing Hendersonville TN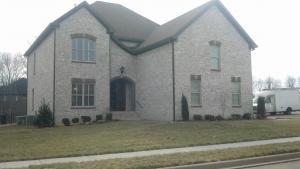 House Washing Hendersonville TN by Outdoor ProWash Since 2004 615-365-1000
House washing to restore or maintain the visual appeal of your home will also increase the life of your exterior surfaces. This is only true if the house washing is done properly. The benefits of having a clean exterior include impressing your guests and neighbors. Also, you could increase the sale price of a property or shorten the time on the market. A clean property is easier to inspect. Cleaning before roofing or other exterior work will help to notice and identify problems at a time that it can be dealt with the easiest. You will find that frequent cleaning makes the most sense as you will enjoy a consistently clean property at all times. So will your guests and neighbors. Frequent cleaning is also better for the environment because less chemicals are used and the contaminants are degraded faster in smaller quantities. Power washing can remove dirt, mold, rust, grease, oil, webs, etc. from all surfaces. Some surfaces include, concrete, stone, siding, brick, wood, composites and more.
Mar 16, 2023
House Wash and Driveway Pressure Washing
Great work, George. Thanks
Mar 16, 2023
Clean out the gutter and flush them with water to ensure they are flowing.
Terrific service, quick response time, and reasonable prices.
Mar 7, 2023
Roof Cleaning
Good job. The roof on the shop is bright and shiny again.
Mar 7, 2023
House Washing
Did a great job as always !!
Looking forward to next time😀

Mar 5, 2023
House Washing
Such an easy experience and our house looks so much better! I wish I had taken before/after photos of the difference.