Roof Cleaning White Membrane TPO/PVC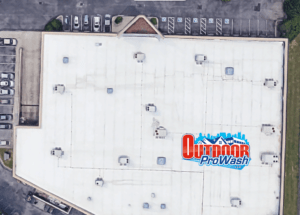 TPO/PVC Membrane Roof Cleaning Service
White Membrane roof cleaning service by Outdoor ProWash is important to maintain the reflective quality of the roof. Most manufacturers recommend regular cleaning to maintain the roof and the warranty.
Reasons to maintain your membrane roof:
There are several reasons routine cleaning should be included in normal roofing system maintenance, including:
Keeping the surface white so it can provide maximum reflectivity and its associated energy conservation benefits

Preventing the accumulation of dirt and debris, which can act as a nutrient source for algae and other plant growth

Preventing the accumulation of food sources for birds and other pests

Preventing the accumulation of chemical contaminants on the roof surface that may harm the membrane and reduce its performance life

Liza Barth Content Editor and Writer for GAF ProBLOG http://blog.gaf.com/how-to-clean-a-tpo-or-pvc-roof/?unapproved=71674&moderation-hash=0a8a8674652190f767dc90ad244d36de#comment-71674
Below are some real shots
It is important to inspect, document and perform any needed repairs before and after the roof is cleaned. Precautions need to be taken in order to prevent damage to the roof during cleaning. All safety rules must be followed throughout the entire process.
Contact Us for a Free Estimate