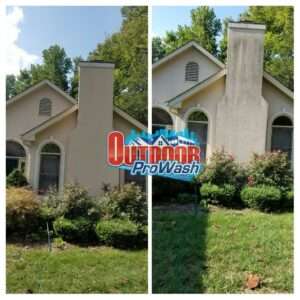 House Washing Lebanon TN
We provide house washing Lebanon TN. Outdoor ProWash's Soft Wash House Washing Package is a very inclusive and satisfactory process for cleaning your home's exterior. We include the gutters and spray off the windows. We also include your front porch and steps. These are all areas normally omitted by discount pressure washers. We know how important these details are to finish the job completely. Our soft wash is safe for screens and windows seals. The detergent used is so effective and targets the main problems areas so well that even peeling paint can most of the time be left alone while thoroughly cleaning everything it touches. All siding types are cleaned at maximum quality. We can't make your home new again, but we sure will try our best! Please take a moment to fill out the form below and we will get back to you with a quote for services.
Jun 21, 2017
House wash, driveway and sidewalk pressure washing
Thank you. It looks great!
Jun 21, 2017
Soft Wash House Washing
you guys are AWESOME !   the  house looks BRAND NEW !!  if you want to put me on a reference list, please do...i will brag strongly about how great your work is... ...thank you...be blessed...j mark w
Jun 14, 2017
House Wash
The guys were very professional and did an awesome job. I don't think I've ever seen my porch and steps so clean! I can't stop looking at everything. I can tell a difference inside the house...much easier to breathe.I have already gave your card to a friend. If a house could smile, mine is now. LOL! Thank you.
Jun 5, 2017
Soft Wash House Washing Package
Chris did a great job in pressure washing my house. Also he is very friendly and customer oriented. The only negative was I left messages on 3 occasions and did not get a call back. The first call was to set up service and I had some questions. In second message, I mentioned referring my sister-in-law and did receive a call back. The third call was to find out what time on June 2nd the crew would be here and that message was not returned. I did get a call from Chris advising me he was on the way. Focusing on this will positively impact customer service. Thanks for completing this job for me. Reggie
We had a big unpredictable wave of calls coming in and was not able to get back to everyone in a timely manner. By the time I got the voice messages the work was already complete. Thank you for your business and valuable feedback.
May 21, 2017
Soft Wash House Washing Package
Thank you very much for the great job.
Outdoor ProWash offers many types of
pressure washing services
. Contact us to see if we can help.