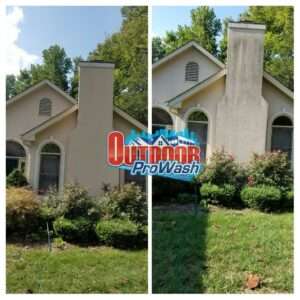 House Washing Lebanon TN
We provide house washing Lebanon TN. Outdoor ProWash's Soft Wash House Washing Package is a very inclusive and satisfactory process for cleaning your home's exterior. We include the gutters and spray off the windows. We also include your front porch and steps. These are all areas normally omitted by discount pressure washers. We know how important these details are to finish the job completely. Our soft wash is safe for screens and windows seals. The detergent used is so effective and targets the main problems areas so well that even peeling paint can most of the time be left alone while thoroughly cleaning everything it touches. All siding types are cleaned at maximum quality. We can't make your home new again, but we sure will try our best! Please take a moment to fill out the form below and we will get back to you with a quote for services.
Jun 14, 2018
Soft Wash House Washing Package
Power washing services were great. House looks clean and sparkly. Scheduling and quote was easy process. His quote was expensive, but he was able to come quickly, as we were willing to pay the premium for it.We did not enjoy our interaction with the company, however, and are unable to recommend.We asked for power washing and gutter cleaning services. The company cleaned the outside of the gutters and did not clean OUT gutters. We did not receive the services we asked for, but more than that, the owner was abrasive and rude when we pointed out the ambiguity of the company's site. There was a way he could have rectified the situation, offering a discount would have been, at the very least, a simple gesture.He instead blamed us, saying we should have asked to clean gutters OUT, instead of CLEAN GUTTERS.His website and quote make no distinction of the difference. I don't know why it's on the back of the customer to do so.
Thanks for the useful feedback. I told you I would make the change on the wording and I just wanted to let you know that I did. I changed it from, "Soft Wash House Washing Package: Soft wash house washing package to include cleaning gutters, trim work....." to "Soft wash house washing package to include cleaning gutters (ask about having us clean out your gutters too while we are there), trim work...", so hopefully no more ambiguity. This change will be on all future proposals. We did clean the debris off your gutter screens at no charge as discussed and agreed upon before your husband verified prior to payment. I also gave you a complimentary sidewalk cleaning as a courtesy that really wasn't worth mentioning at the time. Have a great day! George
Jun 10, 2018
Clean and seal a long driveway
The driveway looked great after the pressure washing but the ultimate test came this morning with the heavy rain. We were amazed at how well the sealant that was used turned the water on the entire driveway. Thank you for a wonderful job and for the results we were looking for!Ann and Bill
Jun 7, 2018
Deck and Fence Clean and Stain
Hi George,The deck and fence look great! How long should we wait before putting things back out on the deck/it can get wet from watering etc? 48hours?

Best,
It's fine to get it wet by now I would say it should be ready, but you can wait until tomorrow just to be safe. The time does vary depending on temp and humidity.
May 18, 2018
Recurring bar/restaurant patio cleaining
Great Job! Patio looks great!
May 17, 2018
Soft Wash House Washing Package
You guys did a wonderful job!!! I am very satisfied and look forward to using you guys in the future... 
Outdoor ProWash offers many types of
pressure washing services
. Contact us to see if we can help.